News Headlines
Click here to view all articles.
The SCBC is now using The Common Game deals, which provides results across hundreds of tables for a superior comparison how you and your partner performed. Plus The Common Game sends out a more detailed report than available on our website or Live For Clubs and you have access to the dealing files for additional learning opportunities.
To receive these reports, simply add your email address to your ACBL profile on acbl.org. If you have registered your email address, but are not receiving these reports, email help@thecommongame.com.
Here's a portion of part of the report you get automatically.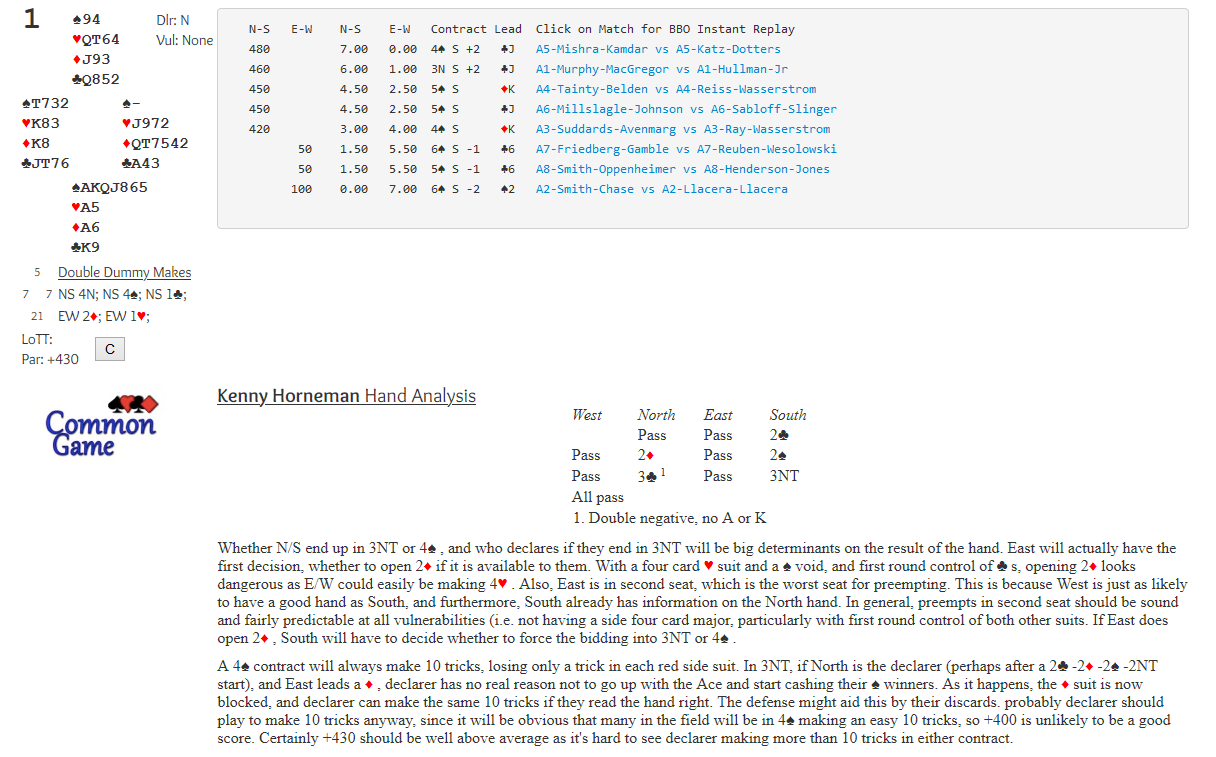 All games are currently conducted online as an ACBL Virtual Club (vClub) on BBO. Here's a document with details about our vClubs and how to register on BBO.
Here's a link for special "senior and vulnerable people" shopping days and hours at major grocery stores in Santa Cruz County. You can order online at many grocery stores as well.
The temporary closure of the SCBC facility continues. The Unit Board of Directors' policy is to keep the SCBC facility closed until face-to-face (F2F) bridge is again safe. This period may extend far past the date local health directives allow most activities to resume due to the nature of F2F bridge and because our members are in a high-risk category.
Due to the closure of the SCBC, Unit 550 Board of Director's Meeting Minutes and the Treasurer Reports are posted to the website following the monthly meeting. Click "Unit 550 Info" in the menu bar on the left when on the website.
The Unit 550 Board meetings are typically held on the 2nd Tuesday of the month via zoom during the closure. If you would like to attend or have an agenda item, contact Ken Llacera.
Virtual Clubs on BBO - Win Masterpoints! Every day! See Game Calendar for times & results.
Click "Virtual Clubs on BBO" in News section above for details.
SCBC temporarily closed. For updated information, click article in News.
Unit 550 Mission: As the American Contract Bridge League (ACBL) of Santa Cruz County, Unit 550, we promote the game of bridge, support the bridge clubs at the Santa Cruz Bridge Center (SCBC), and provide a pleasant, fun environment for learning and playing bridge.
Game Calendar & Schedules: At the SCBC, there are daily and evening games; some are open to players of all levels while others are reserved for newcomers, novice and/or intermediate players. Contact any of the Bridge Club Owners listed below or call the SCBC with questions or partner requests. Clicking Schedule lists the regular schedule. Clicking Calendar displays the games and classes this month with changes from the regular schedule.
Game Results: Click Results on this page or on the ♦ in the Calendar.
Classes: Interested in learning or improving your bridge? Check out current classes at Learn Bridge → Classes
Masterpoints & Game Winners: Significant bridge accomplishments by our members are found under Accolades; including a listing of all Unit 550 Life Masters.
If you have any questions about games, lessons, or the SCBC, please call us at (831) 465-1102 or send us an email at info@santacruzbridge.org.
We look forward to seeing you at the tables!
Your Unit 550 Board of Directors